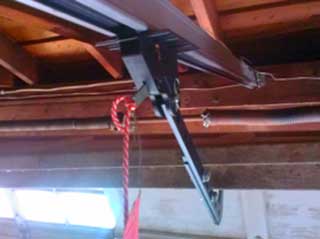 Springs are some of the most likely garage door parts to break. If that happens, you should deal with it as soon as you can! Without a working pair of springs to counterbalance the weight of the garage door, your opener and cables will struggle to lift it. Even if they manage to lift the door, they're likely to break themselves in the process, and then you have a much bigger problem to solve! Take advantage of the highly skilled and experienced garage door technicians in North Saint Paul and the surrounding area, and replace your broken springs fast and cheaply. If a spring breaks on you unexpectedly, you can call the emergency number and have them arrive that same day, guaranteed!
What If a Garage Door Spring Breaks
Sometimes a garage door spring will break while you're opening the door. Other times, you might just hear an abrupt banging noise from the garage, and arrive to find a spring has broken under the constant tension. In either case, you should call and get professional help on its way immediately, and avoid touching your garage door until they arrive. If it's an emergency and you have no choice but to open your garage door right this second, do it quickly and then leave it alone. If you do otherwise, you might break your much more expensive opener. Worse, you could snap a lift cable while the door is open, causing serious damage to anything or anyone standing in the doorway at the time.
Preventing Broken Springs
You can keep track of how many times you open and close your garage door and use that to replace the springs before they break. Every garage door spring comes with an estimated lifespan in lift cycles from the manufacturer. Replace your garage door springs when they're getting old, and you won't have to deal with unexpected holdups and inconveniences. Make an appointment to replace them on your own time, and you won't even need to use our North Saint Paul emergency spring replacement services. You might also want to have professionals take a look at your springs if they're getting noisy, or if they look visibly damaged. It's both cheaper and safer to deal with old garage door springs before they give out instead of afterward.
North Saint Paul's Best Broken Garage Door Springs Repairmen
The dangers involved in the process make garage door spring replacement a complicated procedure and one that only trained professionals should attempt. Every year, thousands of serious injuries occur due to amateur spring replacement attempts. Fortunately for North Saint Paul and nearby, our local broken spring repair specialists offer fast and affordable solutions. Call us, and get your new springs replaced the very same day!